---
The tiny NALA Exhibition in Aarau (Kanton Aargau) Switzerland
6.- 27. September 2017
Photos from the tiny NALA Exhibition at the Amarte Art Gallery, Pelzgasse 4,
5000 Aarau, Switzerland.
---
The 6th NALA Exhibition in Mainz / Germany
6.- 20. May 2017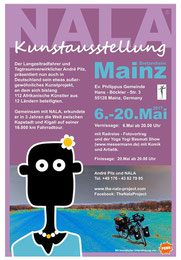 Fotos von der 6. NALA Kunstausstellung in Mainz (Bretzenheim)
Photos from the 6th NALA Art Exhibition in Mainz, Germany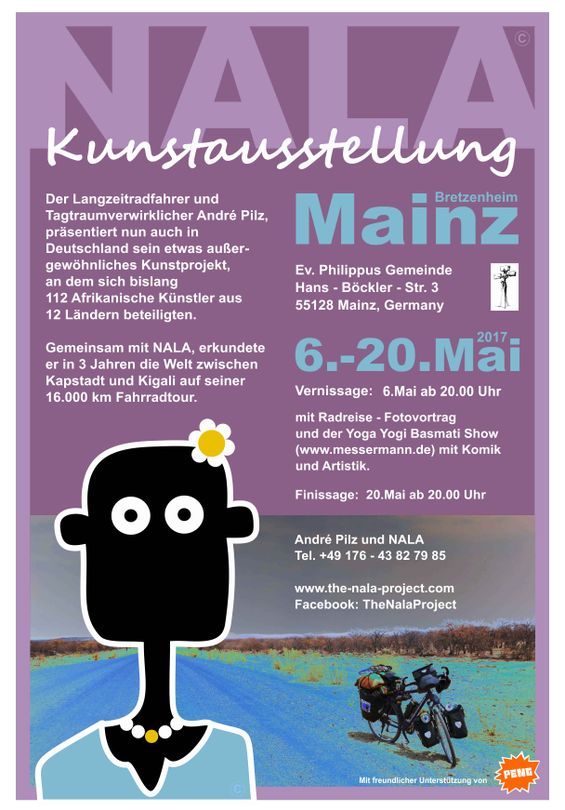 Eine Reise – viele Abenteuer – eine NALA
- 112 Künstler aus 12 afrikanischen Ländern -,
das zeigt die Kunstausstellung in der Ev. Philippus – Gemeinde in Mainz Bretzenheim
vom 6.Mai bis 20.Mai 2017. (Mittwoch und Donnerstag 17 - 19 Uhr)
und nach Vereinbarung ( heiligenthal@philippus-mainz.de )
Vernissage: 6.Mai 2017  Einlass: 19:00 Uhr, Beginn: ab 20:00 Uhr
Finissage:   20.Mai 2017  Einlass: 19:00 Uhr, Beginn: ab 20:00 Uhr
André Pilz, ein Langzeitradfahrer und Tagtraumverwirklicher präsentiert mit seiner NALA dieses außergewöhnliche Kunstprojekt in Form der unterschiedlichsten Kunstwerke und Fotos.
NALA, eine von André Pilz kreierte Figur, mit der Sehnsucht, die Welt kennen zu lernen, und Künstler, die ihre persönliche NALA - Geschichte malen.
Mit seinem Fahrrad reisten beide 3 Jahre lang, 16.000 km durch
12 afrikanische Länder.
Auf dieser abenteuerlichen Reise sind Kunstwerke jeder Art entstanden,
die André Pilz uns jetzt hier in Deutschland vorstellt.
Neugierig geworden?
Dann kommt zur Vernissage am Samstag den 6.Mai 2017
in die Ev. Philippus – Gemeinde, Hans – Böckler Str. 3, 55128 Mainz – Bretzenheim.
Einlass: 19:00 Uhr   Beginn: 20:00 Uhr
Es erwarten euch neben der Kunstausstellung, ein Fahrrad-Reise-Foto-Vortrag aus 3 Jahren Afrika und die Yoga Yogi Basmati Show (Micha Messermann) mit Komik und Artistik.
Mehr Info´s gibt's hier: www.facebook.com/TheNalaProject und www.messermann.de  und
www.philippus-mainz.de/veranstaltung/ausstellung-nala-vom-6-bis-20-mai
...................................................
YOGI  YOGA BASMATI SHOW,  Komik und Artistik  (by Micha Messermann).
Hello happy People,
kommen Sie mit auf eine Reise nach Indien: Magische Wunder, verblüffende Artistik und viel Komik. Denn der ewige Single Yogi Yoga Basmati sitzt immer zwischen zwei Lotussitzen.
Wie geht er über Glasscherben? Und warum? Schafft er es, eine Zuschauerin in sein Hotelzimmer zu beamen? Und wo ist Ihre Geldbörse geblieben? 
Gewinne einen Sonnengruß und bleib im Hier & Jetzt und komm vorbei:
zur Yogi Yoga Basmati Show!
Yogi Yoga Basmati (u.a. SAT1) wird mit viel Begeisterung von Komiker und Artist Micha Messermann präsentiert www.messermann.de
Die Allgemeine Zeitung schreibt: "(..) kam ein zweibeiniger Wirbelwind namens Micha Messermann auf die Bühne gefegt, der alle Register komödiantischen und artistischen Könnens zog. Ansteckendes Lachen, atemberaubendes Tempo, problemloser Publikumskontakt und witzige Sprüche gehören zur Grundausstattung des deutschlandweit auftretenden Mainzers."
---
The 5th NALA Exhibition in Leipzig / Germany
(and the 1st. NALA Exhibition in Germany)
3.- 5. March 2017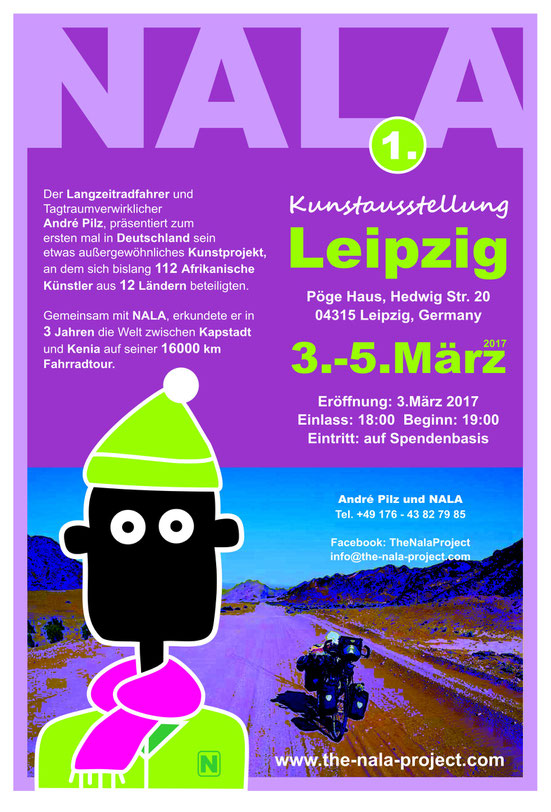 Fotos von der 1. NALA Ausstellung in Deutschland.
( Leipzig, 3.- 5.März 2017 )
Photos from the 1st. NALA Exhibition in Germany.  
( Leipzig, 3.- 5.March 2017)
Slide show Video, which we shown during the NALA Art Exhibition in Leipzig. 
https://www.youtube.com/watch?v=WSkB-UHgOeo
---
The 2nd NALA Slideshow / 2. Reise-Foto-Vortrag
in Calden / Germany  ( Café Bahnhof Fürstenwald )
25. February 2017 ( from 7pm/ ab 19 Uhr)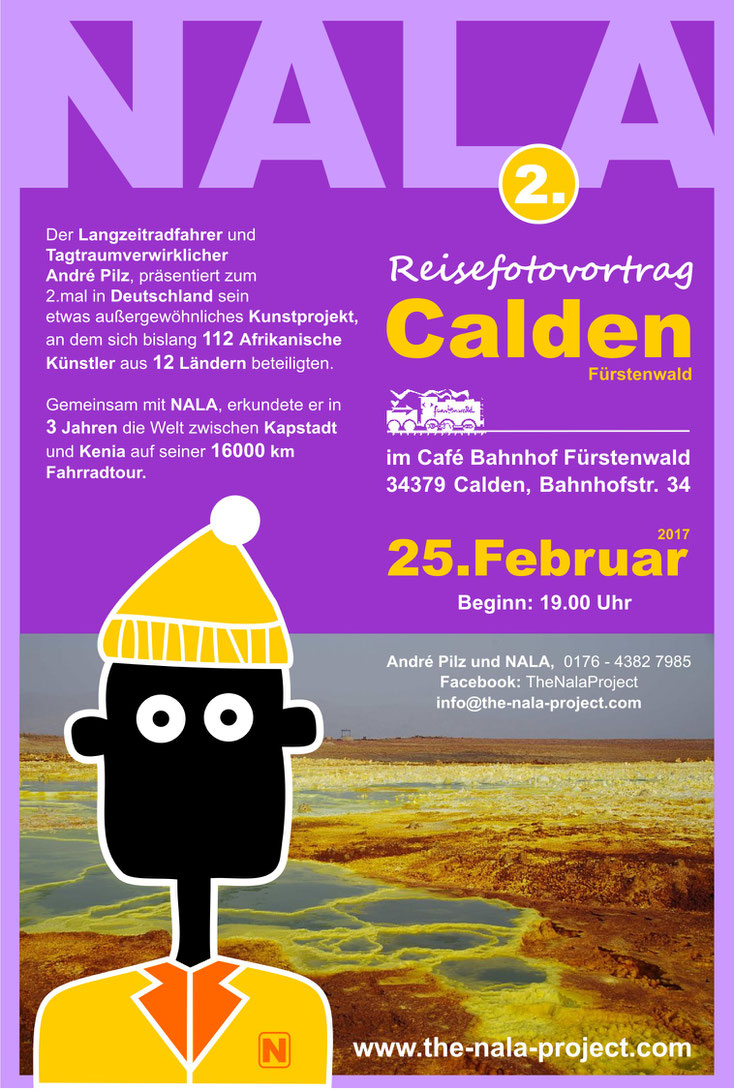 Am 25.Februar 2017 ab 19.00 Uhr, findet im Café Bahnhof Fürstenwald ( Calden, nähe Kassel ) ein kleiner Reise-foto-vortrag 
von NALA´s und André´s 3 Jähriger künstlerischer Fahrrad-reise 
durch Afrika statt.
Ihr seit recht herzlich eingeladen.   
........................................................................
On the 25th of February 2017 from 7.00 pm, a small slideshow 
of NALA's and André´s 16000 km bicycle journey will be held at
Café Bahnhof Fürstenwald ( in Calden near Kassel, Germany)
You are very warmly invited.
NALA and André
---
Preparation for the first NALA Exhibition in Leipzig / Germany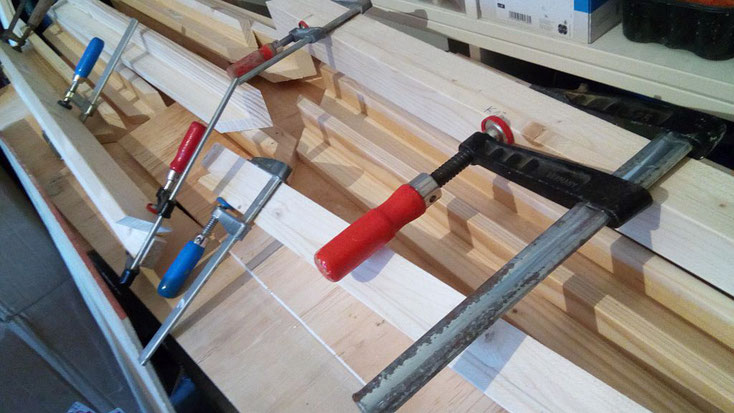 Bevor die Ausstellung in Leipzig stattfinden kann, muss einiges vorbereitet werden. Die gesamten Kunstwerke müssen aus den alten Transportboxen raus. Neue Transportboxen müssen gebaut werden, da die alten ziemlich groß und schwer waren. Alle Kunstwerke müssen gerahmt werden. Dazu baue ich die Schatten-fugen-rahmen selber, da die Bilder alle unterschiedliche Größen haben.
+ Holz kaufen
+ Holzlatten auf Länge und Gehrung sägen
+ Holzlatten auf Breite sägen
+ Holzlatten mit Winkelleiste verkleben, sägen und schleifen.
+ Holzleisten zu einem Rahmen zusammenkleben, tackern und schleifen
+ Holzrahmen schleifen, mit Vorstreichfarbe grundieren
+ Schattenrahmen schleifen und zweimal lackieren
+ Bild einrahmen
... Sieht prima aus. 
Die Transportkisten baue ich auch selbst. 
Hier ein paar Fotos wie es zur Zeit in meiner kleinen Werkstatt in Kassel aussieht. 
---
1. NALA Slideshow in Mainz / Germany
The 1st NALA Slideshow was in Mainz / Germany on 16.November 2016 at the "Kulturei" in the "Kasematten" at the Zitadelle in Mainz. 
Die erste NALA Fotoshow in Deutschland war in Mainz am 16.November 2016 in der "Kulturei" in den "Kasematten" der Zitadelle in Mainz.