---
Back to the mainland - to Tanga. 
(Painted by Fadhil Ratab Raisy (Tinga Tinga Cooperative) in Dar es Salaam, 
Tanzania  2014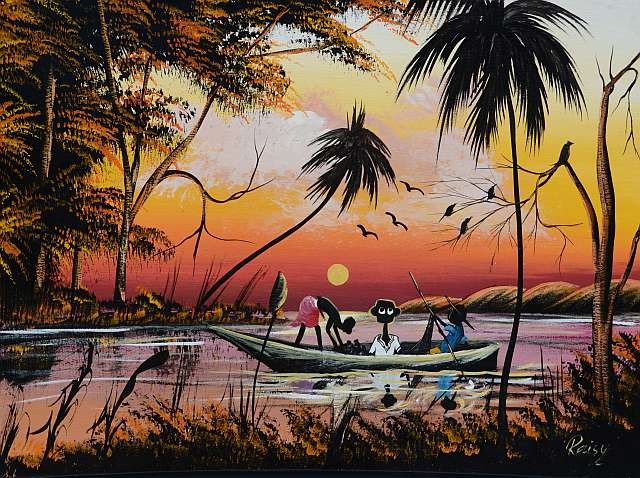 From Mkokotoni on Zanzibar I traveled back to Tanga (Tanzania) on the main land.
This journey turned out sort of adventurous. We were supposed to leave the island at 2 pm, but ended up leaving only at 6 pm.
The sun was setting and it was a romantic atmosphere, floating in the soft water over small waves, the full moon starting to show in the sky.
On board with me were 15 men, 70 bags of rice, 1 Sony TV set, 45 oil cans and lots of milk in bags. Halfway through our journey, the waves started to get bigger and before you could say knife, the fish I had eaten before we left the island were reunited with their brothers and sisters in the sea.
I got really very sick. Then it started to rain and everybody tried to find refuge underneath a plastic cover that reeked of oil and fish. At 1 am we arrived in Pangani where we were anchored for another 4 hours. 
Some of the cold water from the plastic cover splashed in my face and I started smelling like oil and fish as well.
After deboarding , I pushed my bike on muddy roads through deep woods to the next village, where I got on my bicycle again and headed to Tanga.
Btw: I paid more than the double price for the Transport, than the locals, because I am
a little foreigner. ( as usual )
Best greetings from NALA

---
"NALA and the annoying shawl" 
(Painted by Sharifa Juma Mohammed (Sherry Henna Art) in Stone Town, 
Zanzibar 2014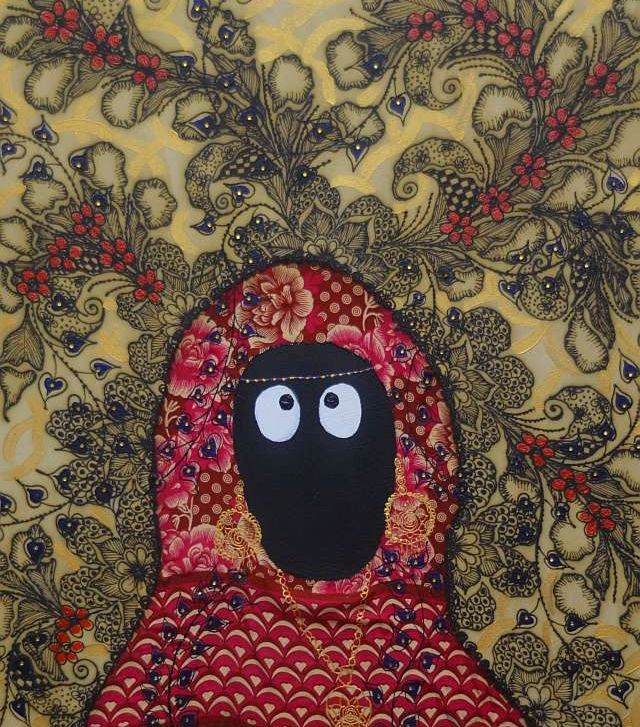 Seriously, it's about time I leave here again. Wearing this shawl the whole time is very annoying. I want to enjoy the sunshine again … uncovered.
And since I don't have hair to begin with, I can't cover it anyway.
So off goes the shawl …
On the island I met Anna and Kombo. Anna was from Sweden and Kombo from Zanzibar. I stayed with them for 2 weeks in their cute house with a roof made of palm tree leaves which the locals call makuti.
A lady called Ute from Baden-Württemberg in Germany made me a few kangas which I like very much. But still, the shawl is getting on my nerves.
I cycled all around the island and enjoyed the ease of life on the island. In Mkokontoni,
I got on board of an old, rickety, wooden cargo dhau (sailing boat) and made my way back to the Tanzanian Coast to Pangani near Tanga.
You can imagine that this part of my journey wasn't a piece of cake, but I will tell you more about it later.
So stay curious!
Yours NALA.
Pssst: If you want to see more Artworks from Sharifa,
just click here: Featured Artists from Zanzibar
---
"NALA alone in Stone Town" 
(Photo taken by André Pilz in Stone Town, Zanzibar 2014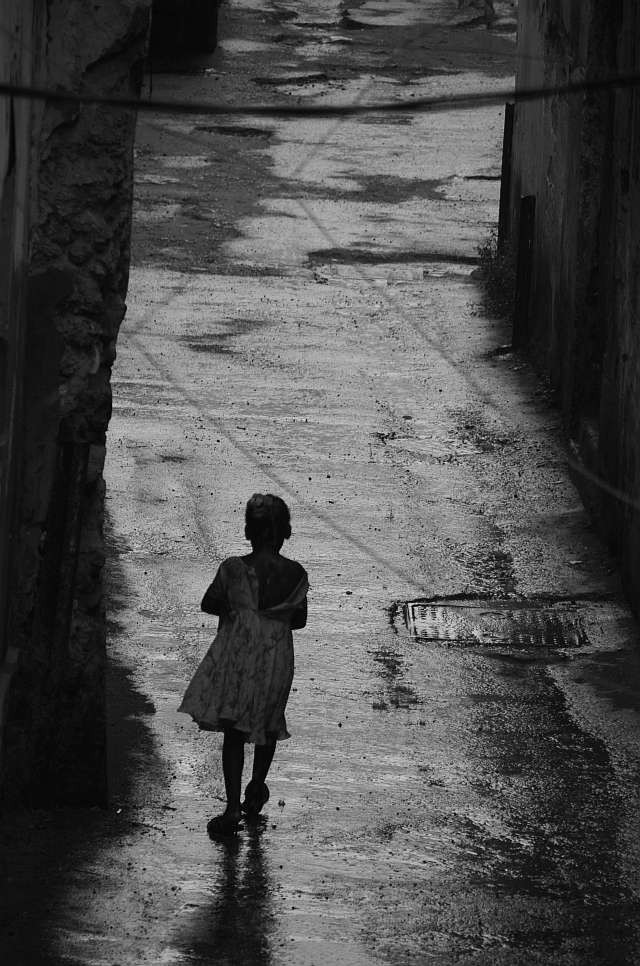 Stone Town … what a time I had there!
I remember how I always got lost on my way back to the hotel from my visits to the market or the beach. Those little alleys in Stone Town all look alike.
I just couldn't remember the right way.
I knew it until a certain intersection, but after that point … no clue. I always got to the road sign there and then I wasn't sure whether to turn right or left, I think it was right, or maybe left, or straight ahead and then left or right?? I had no idea!
I turned right … wrong, I have been here before and it was the wrong way.
Ok, back to the road sign … but where is it? Little "know-nothing" me took the wrong turn again!
Let's see … there is the road sign, but it's on the left side and it is supposed to be on the right side. Did I walk in circles? Hmmmm … I kept walking straight on and then turned right, wrong turn, let's try turning left.
Ah, this place looks familiar; I think we are getting somewhere here. I remember the small shop with the pumpkins outside. I kept on going straight ahead and turn left into the next alley. Wrong! Man … not again!
Oh well, back to the shop with the pumpkins. But where do I go from here?
Back again or … wait… I think I can spot the luxury hotel there at the end of this alley and I remember walking past it on my way to the beach. I think I will walk to that hotel and ask the doorman if he knows the way back to my hotel. But what's the name of my hotel again? Darn, I forgot! Something starting with the letter "P".
Think, think, think … I got it … Pearl Hotel. The doorman explained me the way and after about 10 minutes I was back at my hotel. It took me two hours to make my way back from the market to the hotel, and that didn't happen only once, it happened almost every day!
Back at the hotel the fat owner, who doesn't manage to get out of his armchair all day, greeted my friendly with one of his sweaty smirks.
I went straight to bed because the stresses and strains of the day had worn me out.
And the next day the search for the way back to the hotel would start all over again.
Good night my dear friends, sleep well!
Yours NALA
---
"NALA in Zanzibar"  (Painted by Jamila Mzee Mataka and Mwanakhamis Mohamed (Mwana) from the Hurumzi Henna Art Gallery in Stone Town, Zanzibar 2014    

NALA in Zanzibar
Immediately after arriving in Zanzibar I had to cover my head with a sort of shawl. Actually it's used to cover hair which I don't have, but I had to wear it anyway.
In addition to that I had to wear a long black cloak which is called baibui. In other Arabic countries they call this kind of cloak abaya. It's often made of sheep wool or camel hair and decorated with different designs. The kind of material and design can show your social status and affiliation with a certain tribe.
But I didn't really want to worry about all this too much because I was sweating so much with that cloak on and I decided to wear a typical Zanzibari kanga instead. This kind of garment consists of 2 big pieces of fabric; one is being wrapped around the hips, the other one covers the head and the shoulders. And wearing this I didn't have to sweat anymore…. And I was setting out to conquer the "Isle of Spices".
The next day I visited the Forodhani Gardens Night Food Market in Stone Town, wearing a black baibui again. It was a good chance again to find something nice to munch, for instance delicious kebab, seafood like octopus and calamari, grilled meant and Zanzibari pizza.
I wiped my greasy hands on my cloak … nobody was watching.
With a full belly I made my way back to the hotel and slept like a baby until the next morning.
Soon I will tell you what happened next …
Greetings from NALA
NOTE:

If you want to see the process of this Artwork, please see NALA in ZANZIBAR on the right navigation or click here.
---
INFO:
The women of Hurumzi Henna Art Gallery transform traditional henna body arts into paintings and prints .
Using a centuries old tradition of adorning women's hands and feet for celebrations such as weddings and festivals, the artists translate the patterns of the body art onto canvas creating a new and soon to be iconic art style through their elaborate paintings.
What began as a workshop for 10 women henna artists in 2007 became a thriving women's cooperative engendering an entirely new style of painting.
The results are vibrant and exciting designs characterized by swirling forms and bold floral motifs surrounded by repeating background patterns. This style is uniquely their own; it does not resemble other East African painting styles and represents the exciting creation of what is clearly a Zanzibari invention.
Within the larger style each woman has her own unique way of working with motif, color and pattern.
The Hurumzi Henna Art Gallery is changing women's lives, producing a new artistic style and beneficial means of income that has improved their way of life.
On most days, you may visit the women painting and printmaking in their art studio above the gallery at 242 Hurumzi Street in Stone Town, Zanzibar.