---
NALA at Lake Malawi  ( Woodcarving from Samuel Tobias, Mua / Malawi )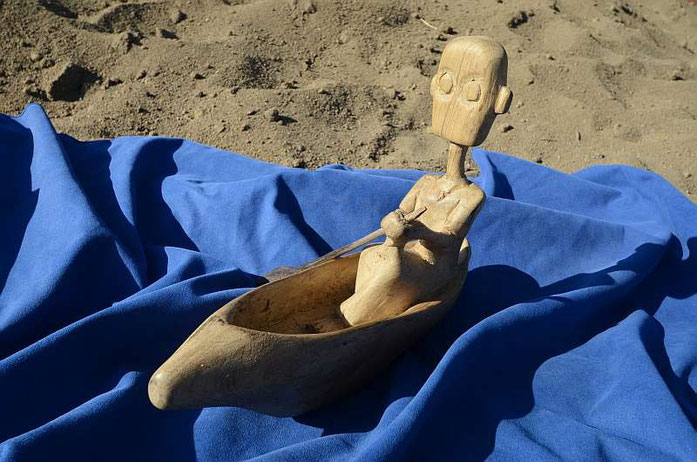 One day I was standing at the shore of Lake Malawi and watched the fishermen returning from the lake with their catch. It was 5 in the morning. The sun was just coming up and the sky, with its bright, turquoise-coloured light, was being reflected by the lake.
All of a sudden I felt like I also wanted to try fishing and I went to borrow a logboat from an old fisherman down by the beach who was busy repairing his fishing nets. I was very excited because I had never taken a boat trip before. Carefully I set sail and it felt wonderful to steer the boat with the oar. At the beginning it was rocking quite a bit, but further on the water became calmer and I floated smoothly over the little waves until I came to a little island. I got out of my boat, laid down at the beach and watched the clouds move by.
In the afternoon I went back and was visited by a duck family, whom I told about my adventure on the lake.
Lake Malawi is about 300km long, 50km wide and 600m deep. There are many colourful fish in the lake, which actually taste very well. They mostly catch sardines here, which are being dried on big wooden tables right in the sun and later being eaten with mush. The water from the lake is also being used to do laundry and to wash dishes and bicycles.
Next time I will write you from Tanzania... until then...
Yours NALA
---
NALA is helping .....  ( Woodcarvings by Levison Lawrence, Mua / Malawi )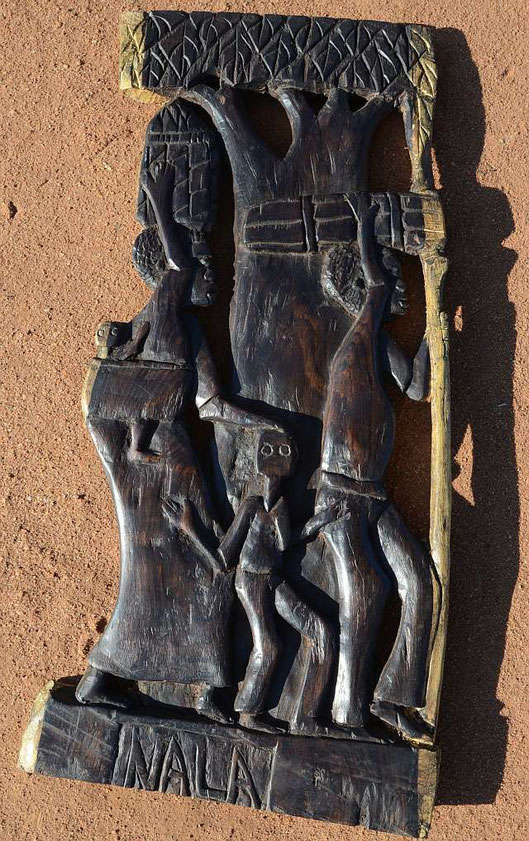 NALA´s Story in english is coming very soon. please be patient.
Thank you
---
NALA carries a lot on her head ( painted by André Pilz in Malawi )
While I am laying at the beach in Zanzibar waiting for an orange juice that I had ordered over half an hour ago, I want to tell you a little more about what happened in Malawi.
After I had told you already what people carry on their bicycles there, I am going to tell you know what women there carry on their heads. It seems almost impossible, but they carry for instance very long fire wood on their heads, sometimes even logs. And children, mostly girls at my age, have to help carrying these heavy things. The boys just sit by the road side and gawp when I pass them on my bicycle. And then they start calling "give me my money" when they see how nice my bicycle is.
I saw women who carried heavy sacks of maize meal, bowls filled with fruit and vegetables, 25 liter water buckets, a pickaxe (when they were returning from the field), bowls filled with dirty dishes (which they carried to the water hole to clean them), bowls filled with dirty laundry (which they wash in the river), sugar cane, bags and luggage …
When you are near a lake or river, they carry baskets filled with fish on their heads; one just has to be careful that a fish doesn't jump out of the basket. 
I also saw a few men who carried their tool boxes on their heads, or a TV set, a case of Coca Cola, a box full of one weeks grocery shopping, a box with a chicken that still cackled (usually they hang upside down from a handlebar).
The funny thing is, sometimes these women and girls carry even small items on their heads, so that they don't have to carry them in their hands, for instance an umbrella, a high heel, a mug, an open school book, a cake of soap, a 5 liter bottle of oil, a banana plant, a plank, 3 single bananas and so on.
Have you ever tried carrying something on your head?!  It isn't easy at all …
I will write again soon … my orange juice is finally here … about time.
See ya …

Yours NALA
---
NALA is coming...... ( Woodcarving by Samuel Tobias, Mua / MALAWI )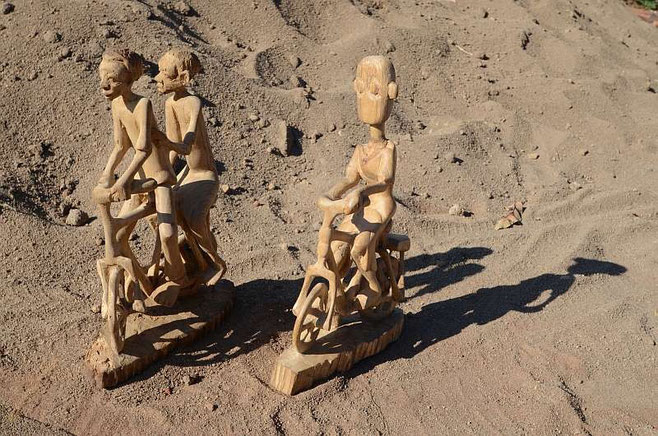 Watch out … out of the way!  
Like a tornado I raced down the mountain and that was so much fun!

I passed all those rickety Indian bicycles and in no time they were far behind me. Well, no wonder … because they were loaded with all kinds of things: charcoal, pigs, goats, chicken, logs, water tanks, old grannies and young guys, and even one lady with children and one those flashy phones.
Seriously, she had one baby in front, one baby on her back, and she was talking idly on the phone while the sweaty driver tried to make it up the mountain. 

I am sure by now you have figured out that I am telling you about one of my adventures in Malawi.
In Malawi they have way more bicycle taxis than in Zambia. And some of those bicycles are in a very bad state … broken breaks, wobbling rims and in most cases there are several crossings missing or they are simply twisted.
The chains are getting fixed with cobblestones and lost or broken pedals are being replaced with pedals carved out of wood.
But instead, the bicycles in Malawi sometimes have 4 rear mirrors (of those four, two are without glass),
5 lamps (only 2 of those are functioning) and fanciful bended handlebars with 4 handles and 3 bike bells and hoots.
Next time I am going to tell about all the things women can carry on their heads.
Until then! 
Yours NALA