---
This NALA Artwork was made by Lulit Melaku, Addis Ababa, Ethiopia
(The Story about this Artwork I will write later)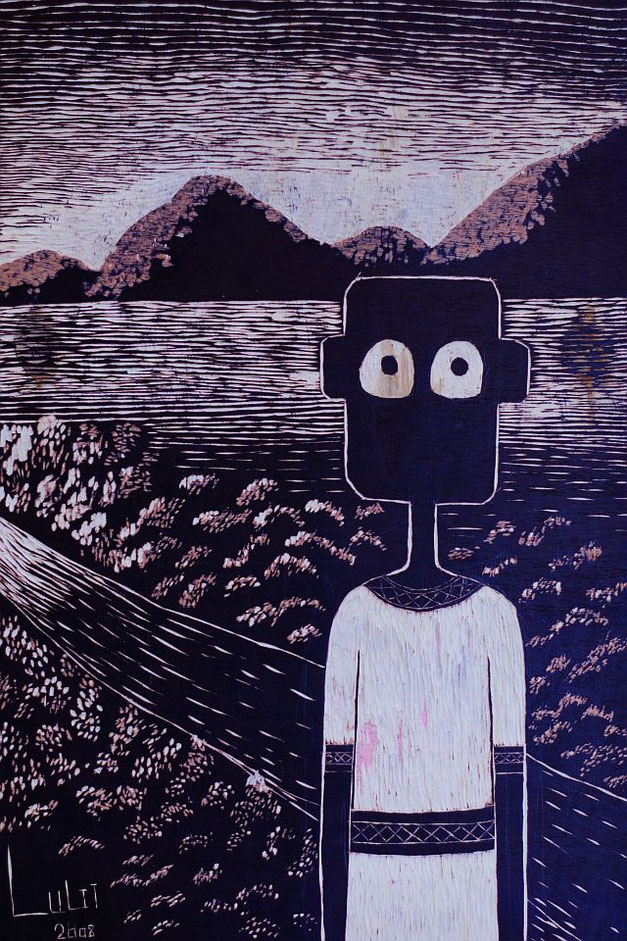 ---
NALA and the New Years Eve in Ethiopia  (Melkam Addis Amet)
( Artworks from Kiros Ashenafi, Tsega Tesfu, Kidist Solomon, Biruk Tadesse,
 Eyerusalem Teka ( from top to bottom )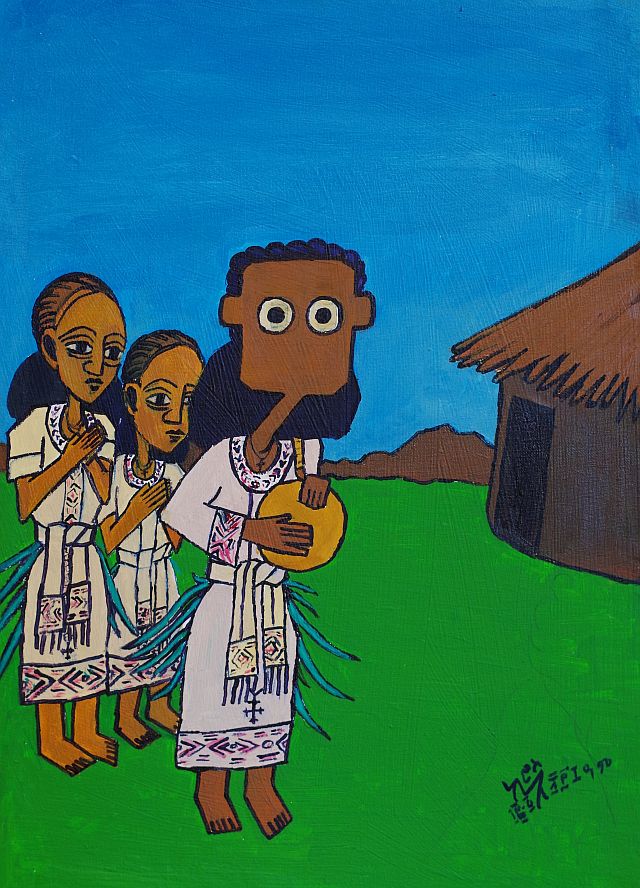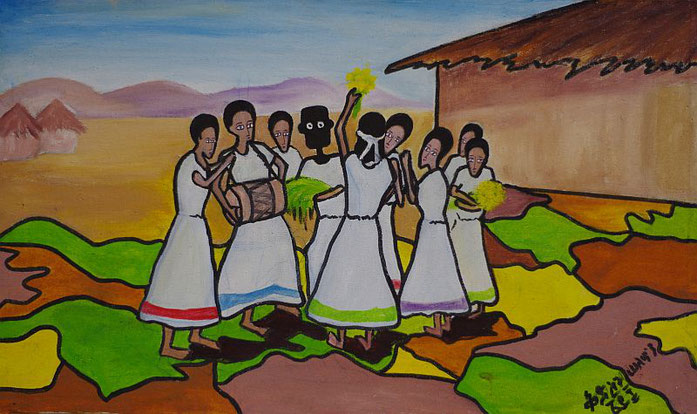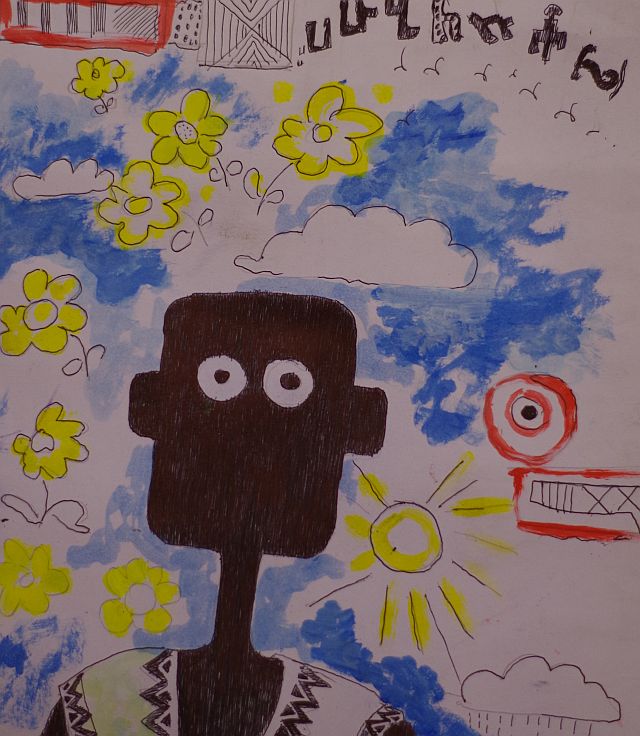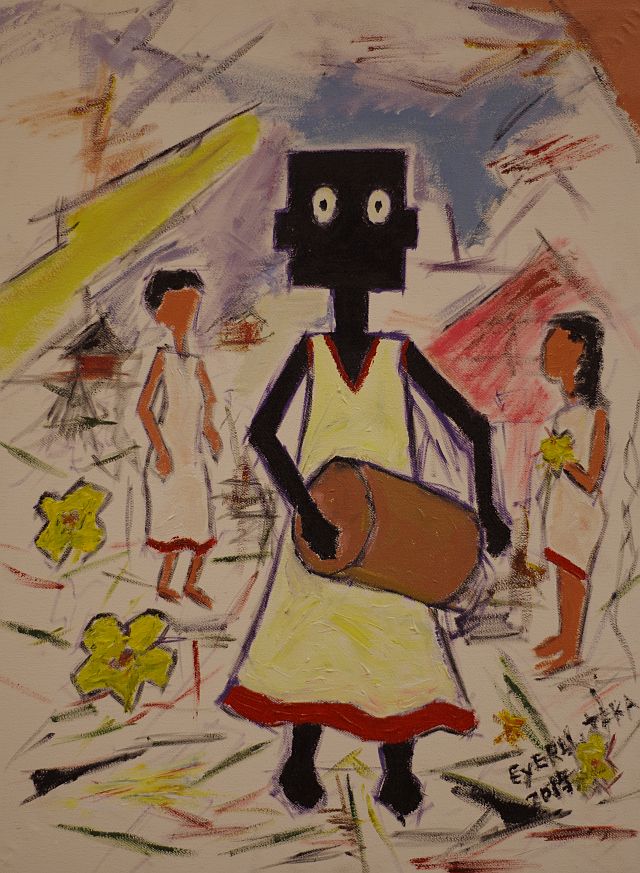 You won't believe it, but in Ethiopia people don't celebrate New Years on the 31st of December but in the 11th of September, and that's because Ethiopia uses the Coptic calendar and doesn't only celebrate New Years on a different day, but is actually 7 years and 9 months behind our calculation of times.
While the Western World is starting the year 2016, Ethiopia is in the year 2008.
If you ever want to time-travel, just get on an airplane a fly to Ethiopia … 7 years back in time! I always knew there was a time-machine!
Enkutatash ist he Ethiopian name for New Years and marks the end of the raining season. This is the time when the adey abeba flowers bloom and the highlands are covered with a yellow flower-carpet that glints golden in the sunshine.
Children put on new white dressen and dance through the villages and hand out big bouquets of yellow flowers. People are singing happy tunes everywhere and when the sun sets they light big fires in front of their homes. 
People in Addis Ababa celebrate the end of the year as well.
There are spectacular celebrations at St. Ragual Church on Mount Entoto.
It was wonderful to watch how all these people celebrated the New Year.
People were telling old tales while standing around the fires.
The problem was that I didn't understand a single word, since I don't speak their language but I listened to them anyway.
The word Enkutatash means jewel gift and goes back to the 10th century before Christ. When Queen Sheba returned to Ethiopia from here legendary and costly visit to King Salomon, the Supremes of her country gave here jewels and other treasures as welcome presents.
I will always keep this day and the celebrations in my mind and in my heart. It was a special way to celebrate New Year's.
I made a lot of new friends in Ethiopia and I always enjoy coming back to this country.
And I will be back again soon!
Until then my dear friends,
Yours NALA
---
NALA attending an Ethiopian Coffee Ceremony 
( Artwork by Mengistu Alemayehu from Bahir Dar, Ethiopia 2015 ) 
As you may know, I love coffee … its taste and its wonderful scent that reminds me of home. My grandmothers used to cook wonderful coffee, but back then I wasn't allowed to have some because I was only a little child. But I was also happy with my chocolate milk!
On my journey so far I hadn't ever been offered any coffee but I had a lot of tea because you can get that everywhere in Africa. And although they grow a lot of coffee in Kenya and Tanzania, people hardly ever drink it but tea instead and it's very delicious.
But I have to admit that I couldn't wait to find out what coffee tastes like and I wanted to try that in Ethiopia. Ethiopia is famous for its coffee ceremonies and I wanted to experience my first coffee during such a ceremony.
To explain what such a ceremony is all about, I will simply give you an explanation that I found somewhere:
Ethiopia's coffee ceremony is an integral part of their social and cultural life.
An invitation to attend a coffee ceremony is considered a mark of friendship or respect and is an excellent example of Ethiopian hospitality.
Performing the ceremony is almost obligatory in the presence of a visitor, whatever the time of day. Don't be in a hurry though - this special ceremony can take a few hours.
So sit back and enjoy because it is most definitely not instant.
Ethiopian homage to coffee is sometimes ornate, and always beautifully ceremonial. The ceremony is usually conducted by one young woman, dressed in the traditional Ethiopian costume of a white dress with coloured woven borders.
The long involved process starts with the ceremonial apparatus being arranged upon a bed of long scented grasses. The roasting of the coffee beans is done in a flat pan over a tiny charcoal stove, the pungent smell mingling with the heady scent of incense that is always burned during the ceremony.
The lady who is conducting the ceremony gently washes a handful of coffee beans on the heated pan, then stirs and shakes the husks away. When the coffee beans have turned black and shining and the aromatic oil is coaxed out of them, they are ground by a pestle and a long handled mortar.
The ground coffee is slowly stirred into the black clay coffee pot locally known as 'jebena', which is round at the bottom with a straw lid. Due to the archaic method used by Ethiopians, the ground result can be called anything but even, so the coffee is strained through a fine sieve several times.
The youngest child is then sent out to announce when it is to be served and stands ready to bring a cup of coffee first to the eldest in the room and then to the others, connecting all the generations.
The lady finally serves the coffee in tiny china cups to her family, friends and neighbours who have waited and watched the procedure for the past half-hour. Gracefully pouring a thin golden stream of coffee into each little cup from a height of one foot without an interruption requires years of practice.
Coffee is taken with plenty of sugar (or in the countryside, salt) but no milk and is generally accompanied by lavish praise for its flavour and skilful preparation. Often it is complemented by a traditional snack food, such as popcorn, peanuts or cooked barley.
In most parts of Ethiopia, the coffee ceremony takes place three times a day - in the morning, at noon and in the evening. It is the main social event within the village and a time to discuss the community, politics, life and about who did what with whom.
If invited into a home to take part, remember - it is impolite to retire until you have consumed at least three cups, as the third round is considered to bestow a blessing. Transformation of the spirit is said to take place during the coffee ceremony through the completion of 'Abol' (the first round), 'Tona' (second round) and 'Baraka' (third round).

(Source: http://www.epicurean.com/articles/ethiopian-coffee-ceremony.html) 
But of course you can also have delicious Macchiato with milk and they still use the old Italian coffee machines to make it.
And along with the Macchiato I usually spoil myself with a mouth-watering piece of cake, sometimes even two, that will make my tummy very big soon.
Ethiopia, I will be back.
Until then, best greetings.
Yours NALA
---
NALA in Addis Ababa  
( Artwork by Hailu Kifle from Addis Ababa, Ethiopia 2015 )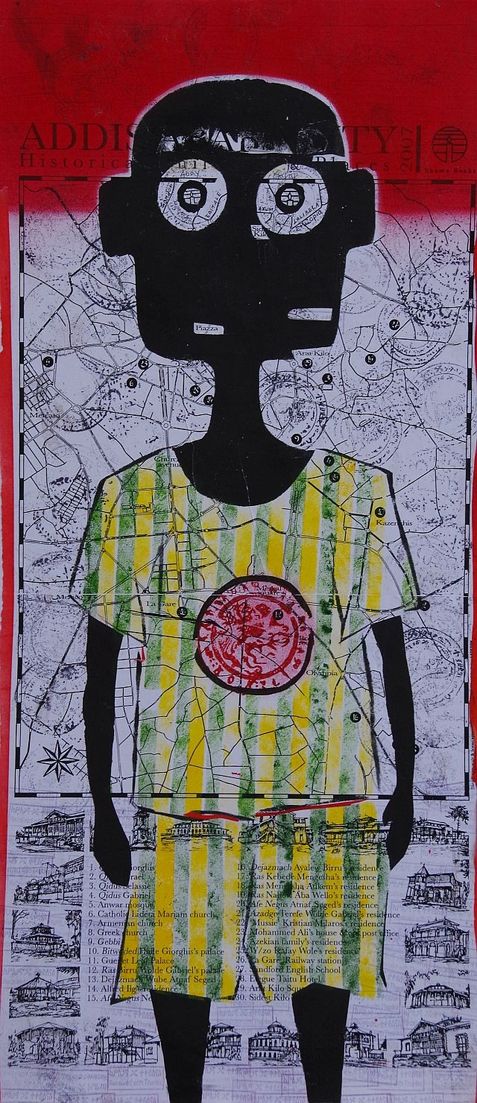 Addis Ababa is one of the most fascinating cities that I have visited during the past 3 years on my journey. Local artists were busy painting me on canvas, carving me into wood and made copies of me from plastic bottles, I was busy exploring this wonderful metropolis.
One of the most famous sights in Addis is the Mercato, one of the biggest open-air markets in Africa. Its origin goes back all the way to Italian rule during colonial times and you can buy everything from livestock to golden jewellery.
And I mean EVERYTHING, but to name it all here would take ages. But I will give you a few examples of items that were sold next to each other:
empty oil cans, empty plastic bottles, used tools (even fully worn screw drivers), electronic scrap, fabric in all colours and materials, used and new wooden boards, refurbished furniture (some was made of soaked chipboard), paint buckets, Chinese-made plastic goods and covers, fruit, vegetables and shoes, chicken and jewellery … it was well worth seeing and very colourful. There were people carrying several mattresses on their heads trying to find a way between the taxis and people carrying many water canisters.
I also visited several cathedrals and churches:  St.George´s Cathedrale,
Holy Trinity Cathedral, and Entoto Mariam church.
I took the urban railway to Menilik II Square and walked across Ras Mekonnen Bridge to Achat Kilo Square, visited the university and walked around the Piazza quarter with its historic buildings from the Italian colonial time, and then I walked back to Lideta, the quarter where I stayed at during my 2 months in Addis.
In the numerous cafés I was able to fill my tummy with delicious cake and macchiato that smelled and tasted very good!
The painting shows all the places that I had visited.
I say good-bye for today, until later!
Yours NALA
---
NALA was on TV again 
( Painted by Mehari Teshome from Addis Ababa, Ethiopia 2015 )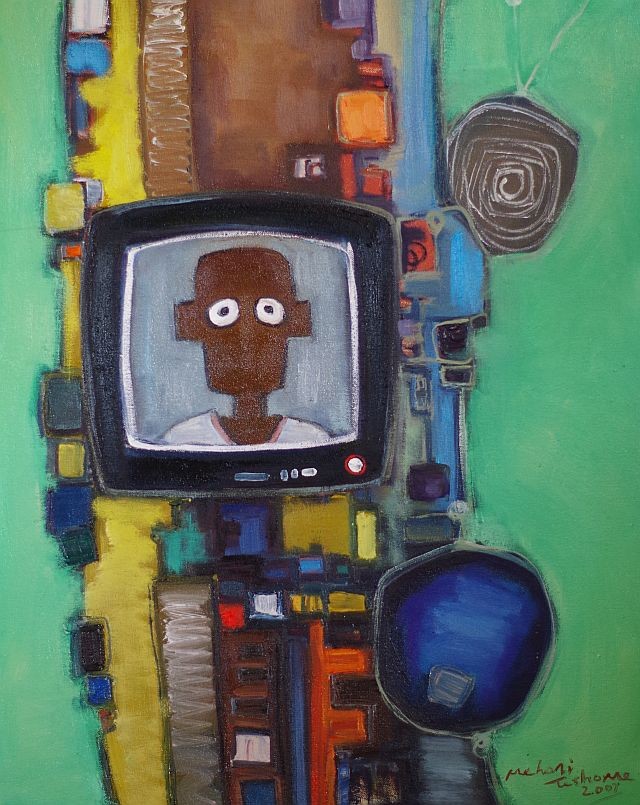 Hello my fellow art lovers,
Although I didn't really want to, I had to give an interview again about my trip from
Cape Town to London.
This time I was interviewed by Evie Maina, a beautiful Kenyan lady who works for the TV station KBC in Nairobi.
She came to my exhibition unannounced and asked me many questions with I answered patiently. They videotaped all the artworks and interviewed André as well who was very nervous to be on camera.
The show "Artitute" aired on the 30th November 2015 at KBC.
I am still very excited about it!
Yours NALA
...and below you see Evie Maina and Andrè at the 4th NALA exhibition in Nairobi in front of Artworks from Ethiopia.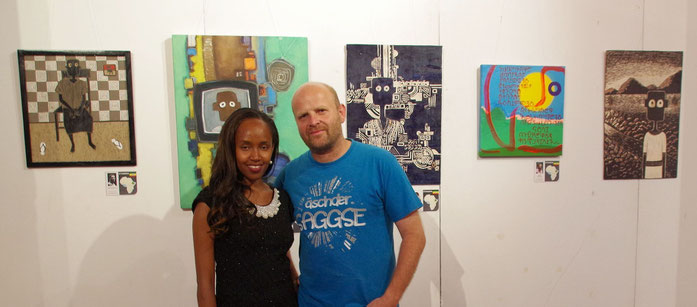 ---
NALA is afraid of a mouse 
( Painted by André Pilz in Addis Ababa, Ethiopia 2015 ) MDF Woodcut and acrylic

While I was in the bathroom today I remembered an encounter which I will never ever forget in life. In June of 2015 I was on my way from Nairobi/ Kenya to Kampala/ Uganda. 
I hadn't been on the bicycle for quite a while then and the first days back on the bicycle were pretty exhausting and I got out of breath quickly and had to stop for a break very often.
One day, after a 35 km leg I arrived in Limuru and I was totally exhausted from the cycling I had done that day. That day I met Peter who lived in a dented iron-sheet shack.
Peter offered me to stay at his place and sleep on his couch and I gladly accepted. It didn't take very long and the room (which was living room, bedroom and kitchen at the same time) was filled with children from the neighbourhood. They wouldn't say a word but just stood there and stared at me in awe.
At night a noise woke me up. Something was gnawing at something. I switched on my torch and saw 4 mice on the table next to me eating away at something. Open buffet for those little rodents. They were cute to look at from a distance, but when one mouse started climbing up the couch I got rather scared and jumped off the couch. That little thing gave me quite a fright.
In Ruanda at my host family's place, there were 3 mice and 2 rats that came out at night to play hide and seek underneath my bed and then they would climb up on the curtains towards the ceiling and disappear in a hole in the wall. Yuck … goose bumps on my back. And the room smelled like a rotting rats' nest.
But nonetheless I would like to thank all the people who let me stay for free at their places.
You all were a big help!!!
Yours NALA
---